Over the past few weeks a AT&T, a major telecommunications company, has run ads that upset some art lovers.  An example is below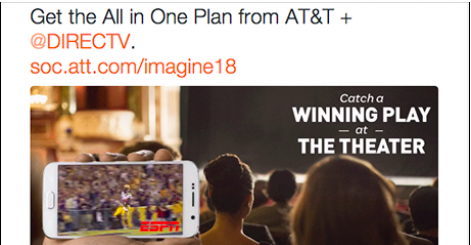 The ads created a typical social media response.  A little anger, some desires for a boycott and I can sort of understand why.  The ad hits the most sensitive spot many of us in the live performing arts have.  It implies that we are boring and irrelevant. When you add that to the emotional response created by cell phones in a performance space, well you can see how things got a little heated.
But I'll be honest, I didn't love the angry responses.  Why?  Because it makes the industry look insecure.  
And we have no reason to be insecure.
People see our stuff.  People LOVE our stuff.  Most of our audience wouldn't dream of streaming a football game in our venues.
And we should talk more about them.
Now we can state the obvious.  We want more people to see the work we do.  We want ballet, theatre, etc. to be held in high regard.  
But I worry that sometimes all of us forgotten those who do come and do love us and focus on those who don't.  
Next time ATT or anybody else implies that the work you or I do is irrelevant or boring then let's tweet them the thousands of examples of innovative work that we know about.
Let's celebrate what we have and who we have.